Viva 400
Viva 400 is een jaarlijkse lijst van het tijdschrift Viva met 400 inspirerende, ambitieuze vrouwen en succesvolle vrouwelijke ondernemers die genomineerd zijn voor de Viva 400-award. Overbodig om te zeggen dat de hippe mede-eigenaren van high-class escort bedrijf Women of the World (nu The Courtesan Club genaamd) daarin ook worden vermeld.
400 succesvrouwen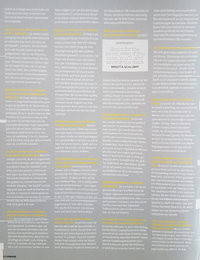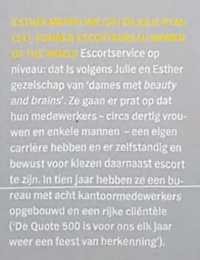 Esther Meppelink (35) en Julie Ryan (34), runnen high-class escort bureau Women of the World, escortservice op niveau. Dat is volgens Julie en Esther gezelschap van 'dames met beauty and brains'. Ze gaan er prat op dat hun medewerkers – circa dertig vrouwen en enkele mannen – een eigen carrière hebben en er zelfstandig en bewust voor kiezen daarnaast high-class escort te zijn.
In tien jaar hebben ze een bureau met acht kantoormedewerkers opgebouwd en een rijke clientèle. 'De Quote 500 is voor ons elk jaar weer een feest van herkenning'.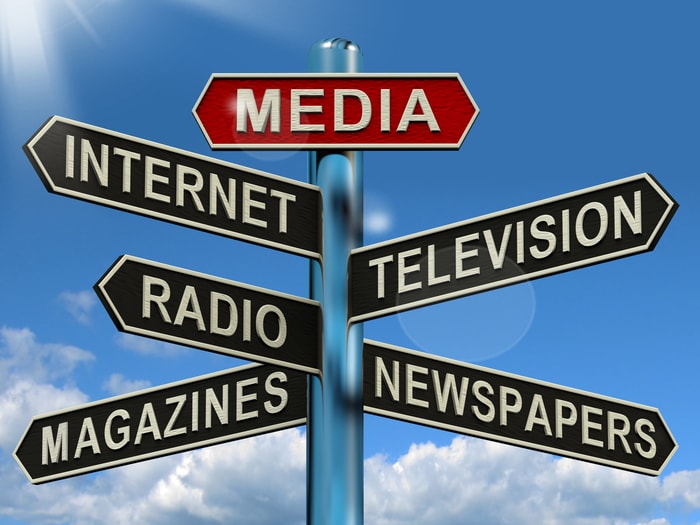 Welkom op onze perspagina. Hier vindt u alle publicaties over The Courtesan Club (voorheen Women of the World): kranten- en tijdschriftartikelen, maar ook radio- en televisieoptredens.
Recent Press