Heleen
The famous author of bestsellers Heleen van Royen orders a gigolo for an article in her own magazine Heleen. She will write about the adventure and first tries booking one in New York but that doesn't work out. After a long search she stumbles upon the stylish escort agency The Courtesan Club which finally reassures her. She chooses Noah who, against all her expectations, is particularly charming, funny and intelligent. Whether her expectations are completely fulfilled can be read in her intriguing story.
Heleen hires a gigolo

"3 hours, that means that the grand total comes to €687,50"
Chicago, 4 am.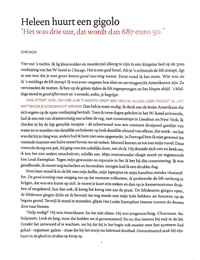 I'm wide awake and alone in a king-size bed on the 32nd floor of the W-hotel in Chicago. It's a great hotel. When you step into the elevator in the morning, there's a mat that wishes you good morning. At first, I thought how stupid. What if it was already the afternoon?  But I'd forgotten how service-oriented these Americans are. They replace the mats. I've stood in the elevator at the craziest times, and it was always the correct mat. In the afternoon it would say good afternoon and at night, well, you get it.
Although very attentive, 4 am is not a time that a woman can find solace in elevator mats that wish you a good night. You need something more. I'm thinking of a nice American on the 29th floor. When I arrived at the W two days ago, I was already travelling for 23 hours, with transfers in Lisbon and New York. I checked in at the hip reception – the back wall was a soft waterfall and there were four orchids exactly the same distance apart, that kind of hip – and it was only because of the fact he was so tall, otherwise I wouldn't have noticed him.
In Portugal I'm not used to strange men being 10cm taller than I am. Mostly, they came to my belly button. This stranger was wearing a suit, he probably was going to do something business-like, just like me. He turned around and looked at me, I must admit, with a flirtatious glance. My man radar never sleeps and I registered A Nice Man. Against my habit and reputation, I left it at that. I was tired, I still needed to check in and besides: I had a busy day coming up tomorrow.
A Nice Man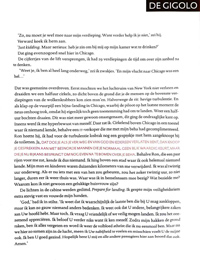 Moments later, I was in the elevator with my suitcase, laptop bag and purse without fluids. I didn't notice the good evening mat at all, because I was too busy with operating the elevator, which was quite an ordeal. You first had to put in your key card and then press your room number, or the other way around. In any case, I couldn't manage to get that broken ass elevator to work. The doors opened, closed and I was still on the ground floor with all my belongings.
While I was making a fool of myself, A Nice Man came in. "Need help?" He was American. And not only that. He had a boyish charm. Helpful. Cute and tall, but we had already established that. And now he was in my elevator. Without waiting for my answer, he said that he also had trouble with this system in the beginning – note to me: gallant – but now he figured it out. Like a seasoned elevator operator, he put his key card in the slot and pressed 29.
"Now you have to go to my floor. Because I cannot help you any further," he said. I stared at him confusedly. "Just kidding. But seriously, do you feel like coming to my room for a drink?" Quick as a whistle here in Chicago.
The numbers of the elevator moved up, I had 29 floors to think about his offer
"You know what, I have been on the road for a very long time," I say with a feeble voice. "And my flight to Chicago was hell…" It was not a hyperbole. First, we could not leave the airspace of New York and we circled above skyscrapers for half an hour. We were flying so close that I could literally see people on the top floor msn-ing. Then there was heavy turbulence midway. And as a nice farewell to the flight, when we almost landed in Chicago, our pilot pulled up at the last moment, because he didn't have permission to land.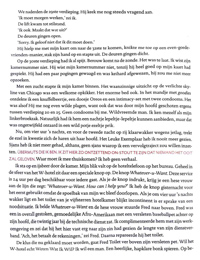 Another half an hour of twirling in the air. This was not just unpleasant, it was almost unbearable.
Suddenly I became painfully aware of my appearance. Circling above Chicago in the plane where I did not know anybody, except for an IT-guy that complimented me on my bra. His name was Ron. Before the turbulence, I had made some small talk with him near the bathrooms of the plane. That's what you do when you're out and about, forsaken and lonely: you make conversation with gentlemen you normally wouldn't think of glancing twice at, but now you're desperate and want to talk about your bra.
Anyways, apart from Ron, I didn't know anybody and he was sitting a few rows in front of me. And the city I was about to fly into was also a haven of strangers. My husband and kids were far away, about thousands of miles. I was on the road for twenty hours. And if something would happen to them, it would take me at least twenty hours back before I was home again. What was I doing? What had gotten into me? Why couldn't I just be a happy housewife?
The lights in the cabin were dimmed
Prepare for landing. I put my seatbelt back on, extra tight and prayed. "God," I prayed in silence. "I know that I'm probably the last person that's allowed to call upon you, but I couldn't think of anyone else. I also know that you have more important things on your mind. But still. Kindly I ask thou if you could land the plane safely. I would appreciate it so much. I won't promise anything in return because I know myself. As soon as my heels are safely planted on the earth, I will become the full-blown atheist I have always been. But, now we are together in the sky, and I can feel your presence. Can you feel mine? I like you. Hopefully you like me and the other passengers as well. Amen"
We were approaching the 29th floor. He was still looking at me with a question mark on his face."I have to work tomorrow," I said. The elevator stopped moving. "Me too. Does that matter?" The doors opened. "Sorry. I believe I shouldn't do this." He helped me get to the 32nd floor, and then he nodded friendly in a 'we're still the best of friends'- kind of way, he waved and got off the elevator. The doors closed.
I already felt regret on the 30th floor. Repentance comes after the sin. But it was too late. I didn't know his room number and he didn't know mine, except if he had taken a good look at my elevator pass. He had tried and failed, I had rejected him, he would not come looking for me again.
With a sigh I stepped into my room
The beautiful view of the skyline of Chicago was a boost to my spirits. The enormous bed as well. In the goodie bag I discovered a stuffed animal, a box of Oreos and an intimacy set with two condoms. It was like He was teasing me, because that had crossed my mind between the 20th and 25th floor. I didn't carry any condoms with me. He was a complete stranger.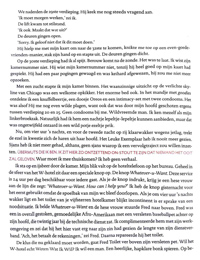 I know myself like I know the back of my hand.
Of course I could have offered him a night of spooning, but undoubtedly that would have resulted in a passionate game of horizontal monopoly. Now, awake at 4 a.m. for the second time because of a jet-lag, I regretted my decision with every fibre in me. I never saw The Nice Man again. I did not get any other flirtatious looks that trip, well, not any flirtatious looks that I would want to follow up on. Why was I such a scaredy cat? I was being so NOT naughty, nobody would even believe me, and I had no story to come home with.
I get up and walk through my room. Suddenly I notice the hotel phone on the desk. In line with the W-hotel atmosphere, there was a special button on the phone that said whatever-u-want. This service is available 24 hours/day for every guest. When you press the button, you hear the voice of a sexy lady that says: "Whatever –u-want. How can I help you?" I pushed the button last night, because the toilet did not stop running water. When you're awake at 4 a.m. and the toilet of your five star hotel seems to be incontinent, then that's an emergency.
I called Whatever-u-want and the sexy sounding lady sent Fred up
Fred was dressed in overalls, a kind Afro-American with a rundown baseball cap on his head, who had worked at the technical service for over twenty years. I made a compliment about the hotel he worked at and said that he must have been very content here, seeing that he worked here for such a long time. "Well, it pays the bills," said Fred. Then he repaired the toilet.
The job that needed to be done now, was far above the skills of Fred Toilet and his rundown baseball cap. Did the W really desire to know what I wanted? I want a man. A nice, delicious set of muscles. On demand. I wish. This is America. The country of instant gratification. Needs are to be met instantly and without hesitation. I could almost hear the sprocket wheels of the 24 hour economy turning. This is the country where elevator mats tell you to have a good day, where opening a bottle of water costs you four (!) dollars and also where there are sexy ladies on the other side of the phone connection that are awaiting your desires to be expressed.
I immediately became aroused and looked at the clock. They are still awake in the Netherlands. I call the editorial that I have a brilliant plan. That I'm going to hire a gigolo. Could I write an invoice for that? Because while I might be terribly free and wild and naughty, I'm also stingy. Yes, go ahead, says the editorial wallet, but don't go all out. Text the final amount and then he might give me the green light (or not).
Like a child in a candy store, I press the W button on the phone
"May I help you, mrs Van Royen?" That's another thing. She sees which room is calling and she immediately calls me by my name. Those Americans are such darlings.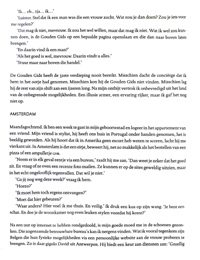 "I want company."
"What do you mean exactly?"
"Male company."
"Do I understand you correctly?"
"I hope so. I want a man."
"Now?"
"Yep."
"And you would like to pay for that? You would like to have paid male company?"
"Yes honey, I do. Don't act like I'm the first…"
My sexy friend is quiet for a moment. Then she clears her throat.  "The only one who can help you with that perhaps, is the concierge. He will be around again tomorrow at 7.00." "I don't think you understand. It's the middle of the night. I'm alone. Tomorrow at 07.00 I won't have these desires any more. Then I'll have to pack and go home."
"I am sorry, mrs. Van Royen, I cannot help you."
The next morning at 7 a.m. I'm still grumpy about my non-sensual ordeal of last night. My suitcase is ready, I took a shower, I could squeeze in a quickie. I call the janitor. When I tell him him my problem – high distress, time pressure, escort wanted – he starts stuttering. "You mean, you mean… you… er…" They're not used to anything, those Americans. "I'm urgently looking for a man for sex. Can you help me?" I ask.
"I… er… well…
"Listen. Suppose I was a man looking for a woman. What would you do? Would you arrange something for me?"
"I'm not allowed to, ma'am. I'd like to, but I can't. What I could do is open the Yellow Pages on a certain page and have them brought up."
"And in that I find a man?"
"Certainly, ma'am. You'll find everything in there."
"Send it up please."
The Yellow Pages never reached the 32nd floor. Maybe the janitor thought I'd taken him for a ride. Maybe he couldn't find the Yellow Pages or he spent the rest of his shift gasping for air. After my breakfast, I left the land of limitless possibilities unsatisfied. I was disillusioned and an experience richer, but I didn't give up yet.
Amsterdam

Monday morning
I'm a guest in my home-town for a week and I'm staying in a friend's apartment. My friend is an interior decorator, he took care of our house in Portugal, and it's beautiful.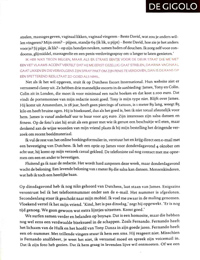 When he hears that I didn't score an escort in America, he laughs at me wholeheartedly. In Amsterdam that's a piece of cake, he claims, just as easy as ordering a pizza or recreational drugs such as GHB.
"At least take one through an agency," he advises me. "Then you will certainly be alright. And ask them to email you a recent photo. They may look great on the website, but in real life they can be incredibly disappointing. You don't want that." "Are you leaving this week?" I ask him. "Why?" "I've got to meet him somewhere, don't I?" "Does that have to happen here?" "Where else? This is where I feel at home. And safe." I press a kiss on his cheek. "You're a doll. And will you style the living room before he comes over?"
After wandering around on the internet for an hour, I feel slightly discouraged
I cannot find those so-called reliable agencies. What I do encounter are Belgians who try to bring their physical abilities to women through a personal website. There's gigolo David from Antwerp. He offers a variety of services: 'Comfortable caressing, giving massages, vaginal licking, vaginal fingering – Dear David, what else would you like to finger? My ears? – giving a blowjob, position 69 (I lick, you suck) – Dear David, how else would you like it? You suck, I lick? – doggy-style, bathing or showering together. I take care of condoms, lubricant, massage oil and a penis anaesthetic spray to make you enjoy it longer.'
I don't have anything against Belgians, but I think that if I encounter one at my doorstep with a Flemish accent telling me he's going to caress me first, then lick me vaginally and then grab his spray to anaesthetise his penis, then there will be no chance on a mind-blowing result.
Just when I am about to decide to give up, I stumble upon Dutchess Escort International. Their website looks surprisingly classy. They have three male escorts on offer: James, Tony and Colin. Colin lives in London, I have to book them for at least one night and that will cost €2,1000. The wallet of my editors is not that big I think. Tony's not my type.
That leaves James
He comes from Amsterdam, is 28 years old, has no piercings or tattoos, is 1 meter 89 tall, weighs 85 kilos and has brown eyes. He's bisexual, if that's true, I'm not totally repulsive to him. James can be hired for a minimum of an hour and a half for 425 euros. His interests are salsa dancing and fitness.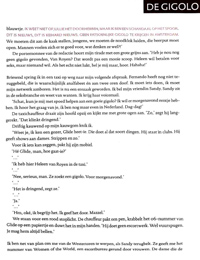 In the pictures he looks like a guy with whom I would like to have a one night stand. But then I remember the wise words of my friend and I request some recent pictures.
I fill in the rest of the online booking form, send it and immediately receive an email with a confirmation from Dutchess Escort. The summary tells me that I have a possible date with James on Thursday evening October 4th at eight o'clock, he will come casually dressed at my request. The operator will contact me to confirm all the details. Cheerfully I go to work. It's going to be hard this week, but Thursday night a reward awaits me. A living reward of 1 meter 89 tall that can dance salsa. Oh my God, what a wonderful job I can call mine.
On Tuesday night I haven't heard from the Dutchess yet, let alone from James. Somewhat troubled, I call the phone number at the bottom of the e-mail. The number is disconnected. For seconds I stare at my mobile in shock. I feel like I've been taken for a ride. Damn it, I'm telling my friend. "Darling, it's only Tuesday," he says cheerfully. "There's still plenty of time. We're just going to find some more options. We'll be fine."
We continue surfing together and end up at boys4u
That's a gay site, but they still have a spare bisexual on offer. Like Fernando. Fernando has the body of the Hulk and the head of Tony Danza in his good years. Fernando has a mobile number. With trembling fingers I send him a text message. He's not responding. Maybe Fernando is illiterate, you cannot be sure. So I gather the courage to leave him a voicemail. I tell him that I've seen his picture. That I'd like to meet him in person. If it's possible, to make a date with him. Cordial wishes, Heleen.
In anticipation of Fernando's response, my friend and I google our asses off, but classy escort agencies for women are nowhere to be found. What we do encounter is 2busy2match. This agency arranges male dates for businesswomen. All companions in their file are 'men of the world with a high empathic and intellectual level'.
I wonder if I can also go to 2busy2match for sex on a high empathic and intellectual level. Clicking on the FAQ, I find the answer: 'If you are looking for a date of sexual nature, we will refer you to agencies that specialise in it'.
It's unbelievable. By now it is eleven o'clock in the evening, my friend is tired and wants to go to bed, Fernando hasn't called back yet, James is a virtual fata morgana, I am fed up with this escort ordeal.
I grab the phone and call Renate from 2busy2match
"Hello Renate, this is Heleen van Royen, sorry to call so late…" "Don't worry, what can I do for you?" "I'm looking for a gigolo. A good one. One with class.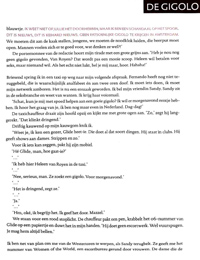 Your agency can't offer me that, can it?" "Right." "Could you recommend another agency for me? I've been looking for days and I can't find anything." "I'm sorry, we haven't found a reliable address yet." "Really?" She hears my disappointment. "I understand exactly what you're looking for, we get this question very often, we've considered offering this service ourselves…"
"Then why don't you?" "Because we can't find suitable men for it. The men in our file have to meet certain requirements. They have class, are of a different league than the average gigolo you find on the internet. These men don't want to get paid for sex. They feel as if they're too good for that."
"But if I go out with one of your guys and I like him and I try to kiss him at the end of the night, what happens? Will I get rejected?"
Renata chuckles: "It probably won't go like that." "But in principle he doesn't have to kiss me back?" "If he doesn't want to, no."
The next morning, I report to the editors with great indignation
"Imagine this. You're a businesswoman with style. You hire a man from 2busy2match. That costs you a €100 an hour, €300 an evening. In the meantime, you have no guarantee that you will get lucky and get laid. You can try it, but you can't be certain, there's a big chance you'll get rejected even though you've paid good money. I don't know if you've figured it out yet, but I'm sensing that I'm about to discover a great scandal. This is news, this is actual news. There's not a single decent gigolo in Amsterdam. We have to go public with this guys! We have to make sure this gets out in the open. Men feel too good to have sex for money. What are they thinking?!"
The financial department hears my plea with a big grin. "You haven't found a gigolo yet, Van Royen? That'll be a nice scoop. Heleen wants to pay for sex, but no-one wants to. If it really doesn't work out, give me a call. Lol!"
Furiously, I jump in a taxi on my way to my next appointment. Fernando hasn't called back yet, he's probably illiterate and deaf. I have to do something, I have to tap into my network. It's now a matter of recognition. I call my friend Sandy. Sandy's in the sex business and knows how to do things. I get her voicemail. "Honey, can you help me get a good gigolo, stat? I want one tomorrow night. I'd love to hear from you. I'm only in Holland for a little while. Bye-bye!"  The taxi-driver turns his head to the side and looks at me with big eyes.
"Wow," he says. "That sounds urgent."
Chewing my gum hot-spiritedly, I nod. "You know, I know a guy named Glide. He does all that stuff. He's in the clubs, puts on shows for ladies. Stripping and stuff." Before I can say anything, he grabs his cell phone.
"Hey Glide, man, how you doin'?"…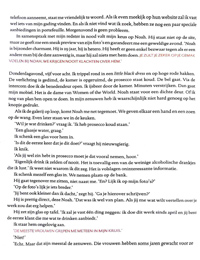 "I've got Heleen van Royen here in the taxi."… "No, seriously, man. She's looking for a gigolo. For tomorrow night." …
"It's urgent, she says." …  "Yeah." … "Hm, okay, I understand. I'll pass it on. Bye." We're in front of a red traffic light. The driver grabs a pen, scribbles Glide's mobile number on a piece of paper and pushes it into my hands. "He doesn't do escort work. He does spit fire. You can call him anytime."
I'm just about to throw myself off the Westertoren when Sandy calls back. She gives me the number of Women of the World, an escort agency run by women. The lady answering the phone is very kind to me. She directs me to their website, she's sure I'll find something that I like. And if I don't find what I'm looking for on the website, not to worry, she has some special guys in the back.
Tomorrow night won't be a problem
In consultation with my rescuer in distress, my choice is Noah. He is not on the site, but she gives me a sneak preview of his pictures and guarantees me a great evening. 'Noah is very charming. He's 29 years old, he's straight. He doesn't mind if there's another guy on the date, but he won't do anything with him. I'm sure you'll feel comfortable with Noah. We never get any complaints about him."
Thursday night, five to eight. I'm prancing around in a little black dress and in high red heels. The lights are dim, the room is tidy, the prosecco is cold. The bell rings. Through the intercom I open the door. I nervously march back and forth through the room. Minutes pass. Then my cell phone rings. It's the lady from Woman of the World. Noah is standing in front of a closed door. Am I going to open the door for him? I probably didn't press the button hard enough because I was so nervous. When I walk into the gallery, Noah comes towards me. We give each other a hand and a kiss on the cheek.
A little later, we're in the kitchen
"Would you like a drink?" I ask. "I've got a prosecco in the fridge." "A glass of water, please." I pour him a glass. "Is this the first time you're doing this?" he asks curiously. I nod. "If you're in the mood for prosecco, please be my guest." "Actually, I rarely, if ever, drink. It happens to be one of the few alcoholic drinks I like." I don't know why I'm saying this. It's completely uninteresting information. I pour myself a glass. We sit down on the couch. He sits across from me, not next to me. "And? Do I look like my pictures?"
"The pictures make you look a little more buff." "You're smaller than I thought, too," he says. "Are you going to write about this?"
He's pleasantly direct, this Noah. "That's what I was planning on doing. If you want to tell me about your work, it would help a lot." He puts his glass on the table. "I'll tell you one thing: I've been doing this job since April and you're the first customer to offer me a drink." I stare at him disbelievingly.
"Most women grab my crotch immediately. But that's usually the nerves. Those women sometimes have waited years before they dared to make a booking. They had to cross a threshold. When they do, all the brakes are off immediately. Besides, they pay me by the hour. They want value for their money." I nod. "Say, shouldn't you be taking notes? Girl, get your pen and paper, sit on the floor in front of me, ask me your questions, I'll massage your shoulders in the meantime."
Noah's not his real name, just like I had suspected
No-one around him knows he's an escort. Not his parents, not his siblings, he leads a double life.  "If I told my parents, I'd hurt them and I don't want to. I have a normal job besides this work, I don't do it for the money. I don't need it, it goes to other people." Who those other people are, he doesn't say. "Then why are you doing it?"
"Partly out of curiosity. I want to get to know a different side of myself. It may sound weird, but I find it inspiring. Because of this work, I end up in situations I would never otherwise end up in. It's always exciting. But also nerve-wracking. The first thing I do when I come in, is  make an assessment of the situation asap. I screen her looks. And I look for the exit just in case I need to leave quickly.  I look around for others in the house. Is the husband there as well?" He lets go of my shoulders to take a sip of water.
"That's what I wanted to ask you, is Ton coming later?" "No, he's in Portugal." "Often married couples book me. Usually it's the guy who's been nagging until his wife says yes. The husband wants to watch his wife being fucked by another man."
"Aha."
"Do you like the massage,  shall I continue?" I nod. "When I'm kissing a woman, I want her husband in front of me,  never behind. I want to see how he's doing. Some men get really uncomfortable once things start. Suddenly they're sniffing hard and getting awkward. One time, I was kicked out within ten minutes. That man had a naughty blonde wife and it really clicked between us. He didn't like it one bit."
Noah stops massaging my shoulders and starts with my head
"Once I had a couple whose child woke up. That girl was about nine, ten years old and she started calling her mother. Her father couldn't calm her down. Before we knew it, the child threw open the door of the bedroom where I was busy with her mother. I thought we had been busted, but the kid hadn't seen anything and the couple wanted to continue the date. Dad put a chair in front of the door while the kid kept trying to get in. The door slammed against the chair every time. And the kid yelled, "Mom! Mom!"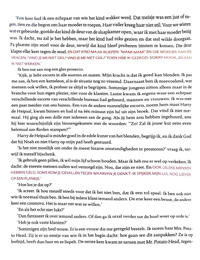 And that mother asking me, "Don't you think I'm hot? Don't you think I'm hot? Then I said, "I'm sorry, I can't work like this."
I need another glass of prosecco. "Look, you've got escorts of all shapes and sizes. My strength is that I'm able to adapt easily. I'm like a chameleon, even if the situation is very weird. Besides, no matter what people want, I always try to understand them. Some guys are only in the business for their own pleasure, not for the customers.
The other day I went somewhere where a couple had hired different escorts from different agencies, men and women. I was with a couple of girls from my own agency. One of the other male escorts, let's call him Harry the Big Johnson, came in and had his dick out of his pants after just one minute. I don't think that's normal. He was doing crazy stuff with everybody. If you had hired him instead of me, he probably would have come in here saying, "Hey! Shall I fuck up your pussy big time?" Harry the Big Johnson is less good at the noble art of adapting, I gathered from this story.
I thank God that he was so kind to send me Noah and not Harry
"Isn't it difficult to perform under the most bizarre circumstances?" I ask, while I pour myself another drink.
"I don't take pills, I want to keep my body healthy. But I've been wrong about the kind of people that would hire me. I thought: most people will be tidy and clean. Well, they're not. And ugly people have money, too. Sometimes you come across people that make think 'I'd rather nail my dick to a cross'."
"How do you cope with that?"
"I act and keep telling myself that it's not me, that I'm playing a role. I act different from how I really am. I'm somebody else with every client. Sometimes a stallion, sometimes a casanova. Depending on what the client wants."
"And if you don't get a boner?"
"Then I fantasize about someone else. Or I'll go on with oral stimulation until things are back to normal."
"Do you have any regular customers?"
"Some are very loyal. There's a woman who orders me regularly. I call her Mrs. Potato Head. She's one of those people I first was like, how am I going to pull this off? She's old, has thin hair and she has a lisp.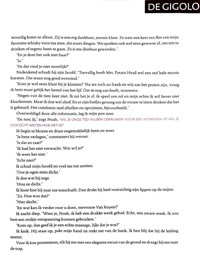 The first time she came with Mr. Potato Head, but these days she comes alone. She's a very grateful, considerate client. She once brought me a bottle of my favorite whiskey, that sort of thing. We also meet sometimes just to have a drink or go somewhere. She has become dear to me."
"And you're having intercourse with her, as well?" "Yes."
"And you don't mind?" He shakes his head. " It so happens to be that Mrs. Potato Head does have a pair of very nice breasts. They're still standing."
"Do you ever come to an orgasm?" Now that we're talking so openly, I want to know everything. "Nine out of ten times, no. I already told you: I play a role and my real self doesn't want to climax. I pretend though. And there are plenty of tricks I pull to make them think it happened. Take of the condom quickly and clean it up, for example."
Overwhelmed by all the information, I put my pen down
"And now you," Noah says. "Do you want to use our time just for an interview or do you really want to know what it's like?" I start blushing and become awkward. "You're shy," he's surprised.
"Is that so weird?"
"I wasn't expecting it. What do you want?"
"I don't know."
"Really?" I shake my head and I feel like I am sixteen again.
"Close your eyes." I do as I am told. "Keep them closed." I can hear him coming nearer. Then he very gently presses his lips on mine. "There. How was that?"
"Not bad."
"And what else can I do for you, Mrs Van Royen? I sigh deeply. "You know, Noah, I've had a busy week. Really, a tough week. I could use a little relaxation."
"Come on, I'll give you a real massage, you like that?" I nod. He gets up, grabs my hand and pulls me off the couch. I'm glad he's taking the lead.
Before I can protest, he lifts me off the ground with an elegant swing and carries me to the stairs
"You'll never make it all the way up," I giggle. He agrees with me. We walk up the stairs together.
"So this is the apartment of a friend of yours?" Noah asks.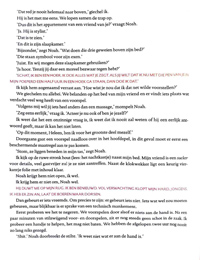 "Yeah. He's a stylist."
"Obviously."
"And this is his bedroom."
"Extraordinary," says Noah. "What are those three antlers doing above his bed?"
"They symbolize his exes."
"Right. And we're allowed to use this bedroom?"
"Yeah. Unless you have a moral objection to that?"
"Honey, I'm a whore. I'll do anything you say. If you want me to stand in a corner with that pen of yours in my arse for half an hour, I'll do it."
I look at him with a surprised grin. "How did you know that's what I wanted?" We both giggle now.
We end up on my friend's bed and something happens that looks suspiciously like foreplay
"I think you want something different than just a massage," Noah mumbles. "Tell me the truth, are you acting now or are you yourself?" It's a stupid question, I know I'll never know if he gives an honest answer, but I can't help it. "Right now, Heleen, I'm mostly myself." Usually foreplay seamlessly merge into the real deal, but in this case a protective measure has to be taken first. "Fuck me, they're downstairs in my bag," Noah says.
I look at the rough poured wood (read: the bedside table) next to my bed. My friend is a sucker for details, and he is very hospitable. Next to the clock alarm clock is a neat square foil with a condom. Noah can't open it, I can. I can't put it on. Noah can. He pushes me on my back. I'm curious. My heart flutters. Guys, I'm in the mood. Let the peasants go to work. Then something weird happens. To be precise: something doesn't happen. Something that should happen, but apparently there are some technical difficulties.
First we try to ignore it
We continue to pretend as if everything is normal. After a few minutes of tacitly continuing our foreplay, there is still no erection. I'm trying to lend a hand, to no avail. We have not been so quiet in the last two hours. "Shit." Noah breaks the silence. "I don't know what's going on."
"Maybe you should think of someone else," I suggest. "Of Mrs. Potato Head.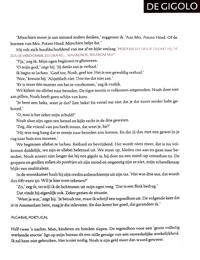 Or Mrs. Potato Head's breasts. Maybe that'll help." He rolls over and looks down. "How can this be?" he growls. "I'd love to fuck you… why me, why now?"
"Well," I say. My eyes start to shine. "Oh, my God," he says. "You're thinking about your story." I'm starting to laugh. "Admit it, Noah, admit it. It's a great story."  "No," he groans. "Please don't. Don't do that to me." "There's only one way to prevent it," I say cheerfully. We're both looking down now. The rigor mortis has completely dissipated. Noah doesn't take pills, Noah doesn't stand a chance. "You're a witch, you know that? A witch! And don't tell me you've never heard that before." "Oh, now it's my fault, isn't it?" Noah turns his head and looks straight at the three antlers. "Say, that friend of yours has issues, you know that, right?" "He was afraid one would come down. And that you would go home with antlers in your back."
We both start to laugh
The laughter is loud and free. It will not get hot and steamy anymore, we're both completely out of the erotic zone. We get up, get dressed and go downstairs. Noah is no longer acting like a gigolo, he's imitating a stand-up comedian. Cracking jokes like no tomorrow, like pearls they exit his mouth. They're pretty funny, my gigolo-boy turns out to be a multi-talented guy.
In the living room he takes his credit card machine out of his bag. "Three hours, that comes to a grand total of  €687,50. Sign here please." "Wow," I say, wiping the laughing tears out of my eyes. "That's a lot of money." He thinks the same, given the situation. "You know what," he says. "You pay me now, but I'm writing out a voucher. Next time you're in Amsterdam, you can cash it in. And then we'll be fine, I guarantee."
Algarve, Portugal
Half past two at night. Husband, kids and dogs are asleep. The voucher for a 'free fully working erection' is on my desk as a silent witness of an unreal reality. I will not use it. It's not necessary. Noah's been worth his money.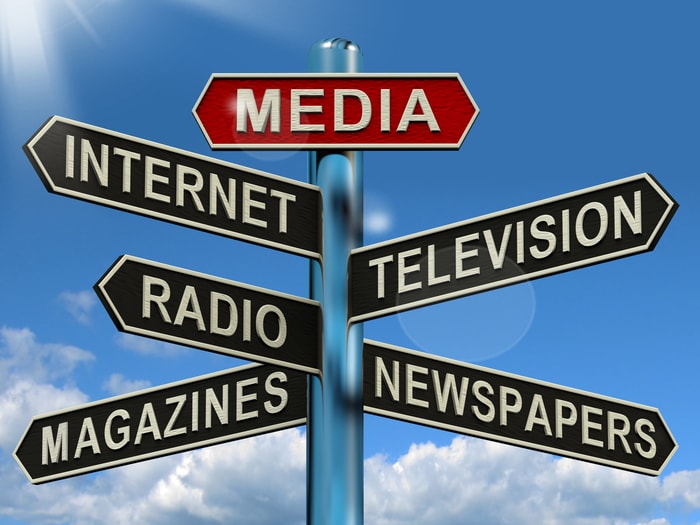 Welcome to our press page. Here you find all media publications about The Courtesan Club (former Women of the World): articles that have appeared in newspapers and magazines, but also radio and t.v. appearance's.
Recent Press