Het Parool
In PS, the supplement of Amsterdam newspaper Het Parool, of February 20th 2016, Esther of The Courtesan Club explains that in recent years, the image of sex work has become increasingly negative. Wrongly so, as the industry is much more regulated than it used to be in the past. Esther explains that many people find it shocking to hear that a lot of women really enjoy working as an escort. They prefer to believe that sex workers are being forced into doing what they do.
Esther Meppelink (42) is co-owner of escort agency The Courtesan Club and notices that the image of prostitution has become more negative. "I find it presumptuous to pretend that sex workers are will-less victims." Tekst by Gijs Groenteman.
"There are women who enjoy working as an escort…

.. most are shocked by this…"
Prostitution is part of Amsterdam, as well as The Night Watch and the Vondelpark. But there are few happy messages coming from the sector. Trafficking, forced sex, lover boys, it seems to have become a criminal gang. Esther Meppelink (42), also chairman of the VER, the association of owners of companies that offer sexual companionship , thinks this is an exaggeration.
She herself does not fulfill any cliche that you might expect from the owner of an escort company – no high updo, no cigarette in the corner of the mouth, no smoky voice. She studied Dutch at the UvA when she became a part-time operator at escort agency Women of the World.
Now, more than fifteen years later, she is co-owner of the company, which is now called The Courtesan Club. "I have been comfortable here from the start, although I was blown away at first. I thought it was all very worldly and cosmopolitan. I'm from as small town called Rijssen, and suddenly I'm in the world of luxury escorts: beautiful women with high heels, beautiful clothes."
I don't really have a glamorous vision of prostitution.
"But this is the world of the luxury escort. Special bookings, beautiful hotels, wealthy customers, expensive restaurants. These days, I'm no longer impressed, I know now that the ladies are also just students."
Didn't you find it uncomfortable being a mediator in sex?
"I had to get used to it, because the conversations are different from the ones I normally had. For example, when a customer asked what services a lady provides, and I went on to explain that she offers a girlfriend experience, so she kisses, and more specific things – I wasn't used to that. But uncomfortable? No, then it wouldn't have been handy to apply as an operator at an escort agency."
When you saw those ads, you immediately knew: this is for me?
"Immediately. I still wonder why that was. I was intrigued by this world, but had never given it a second thought before. What I knew about prostitution was from the book 'False Light' by Joost Zwagerman, and some other novels. But I didn't know anything about escorts, for example. I found it exciting because it's so different from the world I knew. And as the amount of work increased, my interest in my studies lessened. At one point, Gudrun, the owner, wanted to do other things and the chance arose for me to become co-owner. And that's what I have been for about ten years now, together with Julie."
You are from Rijssen, not really a bustling place. Why were you so mild about prostitution?
"Rijssen is very reformed, but my parents are not. My father was a general practitioner. I have always found that reformed society quite rigid. When I get into something, I try not to immediately judge. It was great to grow up in Rijssen, but the way prostitution is looked at, with all that moralism, I just don't get it. And I can't remember thinking about it any other way."
Has the escort world changed a lot during the time you worked in it?
"The work itself has of course remained the same over the centuries. But the circumstances have changed. I have the impression that when I started, prostitution was viewed less negatively. And the industry was not even legal yet, that only happened in 2000. There was no license requirement at all, many more rules were introduced later on. Since 2008, in Amsterdam it's required by law for escort companies to have a permit. It's good that a lot has been regulated, but it's a pity that the image of prostitution has become so negative."
Are we living in a moralistic time?
"The idea that sex is something you share with your partner and that'a it, is very much alive at the moment. To have sex with a total stranger who also pays for it, and enjoying it, for many people that's a bridge too far. People seem to be more shocked when you say that women enjoy working as an escort than when you say that it's all exploitation and trafficking in women."
But trafficking in women, forced prostitution and exploitation do not exist?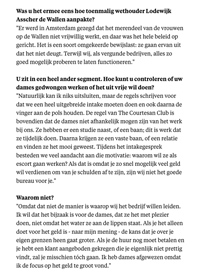 "There's a lot of attention on it, and rightly so. But it mainly happens within the companies without a license. Unfortunately, this is reflected on the entire prostitution industry. But the majority of the licensed operators really have their affairs in order."
Did you agree with how former alderman Lodewijk Asscher handled The Red Light District?
"It was said that the majority of women in the Red Light District of Amsterdam didn't work voluntarily, and that's what the entire policy was based on. It's kind of a reverse burden of proof. They assume that it's no good, while we, as licensed companies, try to make everything function as well as possible."
You're in a completely different segment. How can you check whether your ladies are forced to work, or do it of their own free will?
"Of course I cannot exclude anything, but the rules prescribe that we have to do a very extensive intake and then keep our finger on the pulse. The rule of The Courtesan Club is that the ladies shouldn't be dependent on the income they receive as an escort. They have a study next to it, or a job, this is work that they do temporarily. Then they get a permanent job, or a relationship and they think it's a good time to stop. During the intake interview, we pay a lot of attention to their motivation. Why are they going to work as escorts? If that's because you want to make a lot of money as soon as possible to get rid of your debts, we're not the right agency for you."
Why not?
"Because that's not the way we want to run the company. It should be a nice extra for the ladies. And that they enjoy it, not because they're up to their necks in debt.. If you do it for the money alone – in my opinion – the chances of going over your limits are greater. If you're offered a customer that you don't really like and you still have to pay the rent, you might still go. I've rejected ladies because I thought the focus on the money was too great."
But having sex with someone you don't know, even if it's a millionaire in an expensive hotel, you do it for the money right?
"Of course, money is a big factor, but it shouldn't be a compelling reason."
How do you know what kind of customers you receive?
"We have a lot of regular customers. With new customers, it's all about the first impression. You can already deduce a lot from how they communicate with us. And we screen customers. It's not the case that a customer can call in the afternoon and two hours a later a lady is standing in front of his hotel room. We have our ways of screening who we are dealing with. Not that send a private investigator or anything, we're very skilled at it And yet, in fact, the ladies go on a blind date."
Isn't that scary to you?
"Making the conditions as safe as possible is possible, but I can't predict whether the person we're sending a lady to will not cause any harm. In that respect it remains a risk. But you also run that on a date via Tinder, or on a one-night stand. The municipality believes that an operator should guarantee the safety of sex workers. I think that's an absurd idea. How can I guarantee what happens in that hotel room?"
"I would never say that it is impossible for something to happen. In this line of work you have to be willing to jump in the deep end, so you have to want that too. But all the ladies here are aware of that. I find it rather presumptuous to pretend that sex workers are some sort of will-less victims who have no idea what they're getting into."
Do you ever reject customers?
"Recently I was talking to a few other operators about customers, because you have those types who book everywhere. 'Do you know so-and-so?', 'Yes, I recently fired them!' That's how we call it, firing. If someone has misbehaved, or has wishes we don't want to fulfill, we just stop serving him."
How do you distinguish yourself as an escort agency?
"We have a very clear picture of the type of ladies we want to represent. Our customers want Western European, preferably Dutch, women. And of course they must be at least 21, have permission to work in the Netherlands, speak good English, be healthy and have a beautiful and well-groomed appearance.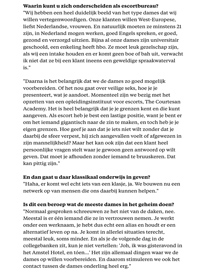 Almost all of our ladies are university educated, a few have a higher vocational education. She should have a bubbly personality. If we have an intake and there's not a peep coming from the applicant, I don't expect that she will suddenly be a great conversationalist with a customer."
"What's also important, is that we prepare the ladies as best as possible. Whether it's about safe sex, how you present yourself and how to handle yourself with a customer. We're currently setting up a training institute for escorts, The Courtesan Academy. It's very important that you know your limits and that you can indicate them. As an escort you have quite a difficult position. You're there to make someone really happy, and yet you have your own limits. How do you indicate that you don't want something without ruining the atmosphere? Without the customer feeling attacked or rejected in his masculinity? What's also possible, is that a customer asks very personal questions that you simply don't want to answer. You have to steer clear of these answers and not come across as rude. That can be tough."
And then you will give classroom education in that?
"Lol. Yes, there's really going to be a class. We're now building a network of people who can help us with that."
Is this a job that most ladies keep secret?
"It's not something they scream from the rooftops, no. Usually there's one person they trust. You work under an alias and you have an alternative life. You come in all kinds of situations, most often nice, sometimes less nice. And when you sit in the lecture rooms the next day, you can't say: "Well, I was at the Amstel Hotel last night, and…"
These are the kinds of things we want to prepare the ladies for. And that is why we also very much encourage contact between the ladies."
Is it really just about sex?
"No, no. Sometimes a customer wants to spend time in the bedroom, sometimes they go out for dinner first, sometimes a customer also wants to take a lady to a conference. Or a week on vacation, for example."
A week on vacation, with a customer? That must be terrible.
"Some skiing in the Alps, or a trip to Dubai? Look, as an escort you have to be completely focused on someone else. You're always in a good mood, never have your period, you don't nag, you're the ideal date. I'll agree with you there, I couldn't be, quite frankly, a week on vacation without ever being cranky."
"Of course it also becomes more personal after a few days, then it is more difficult to indicate your limits. Because as soon as you do that, it suddenly becomes clear that you are still working on a business agreement. To then clarify what is possible and not possible within the agreement, that's what matters. And yet, there must be a semblance of intimacy, so you cannot always mention what is impossible."
Does it ever end in a fight?
"Not in a fight no. But sometimes customers have very high expectations. He's just spent three fantastic hours with a lady, and he thinks that he has met his dream woman. But it never becomes completely personal, even on such a holiday. It remains in the end a business agreement. It's an illusion that we sell. And that's fine as long as all parties are aware of it. But sometimes it ends in disappointment."
Are you ever secretive about your profession?
"Never. On the contrary! Especially when I was just an operator. I thought it was funny to announce it. The only tricky thing is that people are so curious. As soon as I say what work I do, we often don't talk about anything else, while I also like to talk about other things. Maybe it also makes a difference that I don't have children, in that respect I'm invulnerable. I can be very open, but when it is whispered in the schoolyard that a mother has an escort agency, it might be more difficult. I must also honestly say that people find it more acceptable because it's high class escort. They find it completely different for one reason or the other."
CV Esther Meppelink
Zwolle, February 22, 1973
1985-1992 Holten High School
1993-1994 Dutch teacher training at Windesheim University of Applied Sciences
1994-1999 Dutch Language and Literature, UvA (not completed)
1998 Joined escort agency Women of the World as an operator
2005-present Co-owner Women of the World
2013 Women of the World becomes The Courtesan Club
2009-present Chairman VER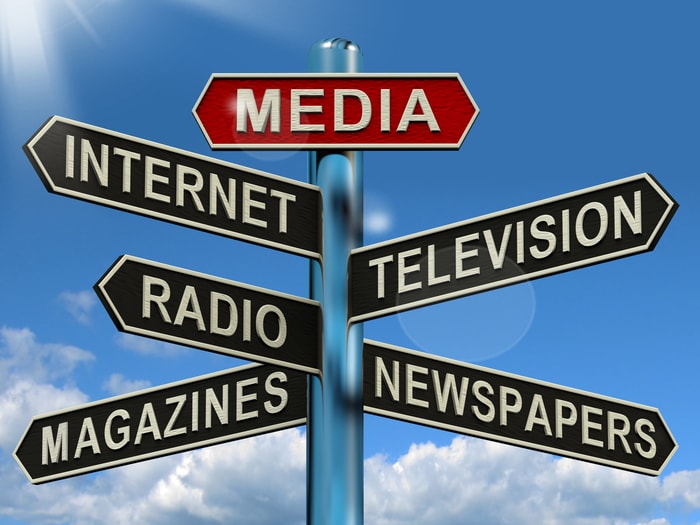 Welcome to our press page. Here you find all media publications about The Courtesan Club (former Women of the World): articles that have appeared in newspapers and magazines, but also radio and t.v. appearance's.
Recent Press