Algemeen Dagblad
Princely love picture turns out to be reporter with high class call girl Jesse of Women of the World (now The Courtesan Club). On September 3rd 1999, Dutch newspaper Algemeen Dagblad wrote an article about how another big newspaper bought a photo depicting high end escort girl Jesse together with a journalist, under the assumption that it was a photo of the Dutch crown prince and his bride-to-be.
Princely love picture turns out to be reporter with escort girl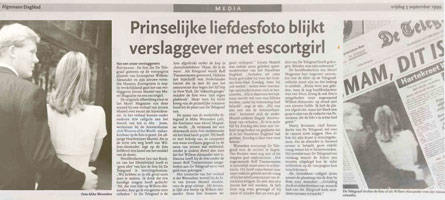 Rotterdam – The photo that De Telegraaf newspaper placed on their front page yesterday of Crown Prince Willem-Alexander and his new girlfriend Maxima Zorrequieta is fake. In reality, it's a photo of reporter Jeroen Mantel of More! Magazine and an escort girl. From one of our reporters.
The original image is in this month's More! Magazine, in an article by Jeroen Mantel about escort work as an extra income. In the article escorts tell about their experience on this topic. One of them – Jesse, working for the Amsterdam high class escort agency Women of the World – was photographed in a way so that she was unrecognizable. And the 28-year-old reporter Mantel, who looks like Prince Willem-Alexander at a distance, lovingly had his hand around her waist.
No idea how the photo ended up at De Telegraaf newspaper
More! Magazine's editor in chief Leo van Rooijen has 'no idea' how the photo ended up at De Telegraaf. "In any case, we have nothing to do with it. I think some smart-ass thought: Hey, that guy looks like Willem-Alexander, I'm going to make a joke about that." In De Telegraaf, the photo is printed under the heading in block letters: 'Mom, this is the one'. Rolf Timmermans is mentioned as the photographer, according to the caption he is a Dutch tourist who bumped into the amorous duo in New York in May this year. The 'holidaymaker' took the photo for his own scrapbook. But when he got wind of the princely romance, he offered the picture to De Telegraaf.
The real photographer's name is Mike Wennekes (26), who freelances for More! Magazine. "I suspect a smart-ass nicked my picture straight out of the magazine. With the help of the computer he threw a blur over it and Jeroen's nose was reduced.  Otherwise you would immediately see that it wasn't Willem-Alexander. Then he offered the photo to De Telegraaf under the name Rolf Timmermans and received a lot of money for it."
"Hey Jeroen, you look a little like Willem-Alexander. We could sell this picture well"
The irony of the story is that while Wennekes was taking the photograph of Jeroen Mantel, he was joking: "Hey Jeroen, you look a little like Willem-Alexander. We could sell this picture well." A few years ago, Jeroen Mantel was a sports reporter for the Haarlems Dagblad. "He'd used stories from our newspaper for the door-to-door newspaper Zondag ('Sunday'), where he also worked," two former sports editors recall. "He was reprimanded for that, but was allowed to continue working for us after he promised not to do that again," said one. "He was not the most trustworthy," the other recalls. Mantel denies illegal reselling of stories. "During my time at Zondag one story that had been in the Haarlems Dagblad was indeed posted. 'Zondag' was then fined for that."
Wennekes is considering suing De Telegraaf
Van Rooijen does not yet know whether he will take any action. "That so-called Rolf Timmermans cannot be traced of course. He phoned our editors this morning asking if he could get Jeroen's phone number and threatened that if not, Jeroen would soon find out. I've asked him whether he received more or less than 20,000 guilders from De Telegraaf. Less, was his answer."
The editor-in-chief of More! Magazine can imagine what the atmosphere must be like at De Telegraaf editors now that the deception has been discovered. "Over two years ago, when I was still editor-in-chief of Story, I was also offered photos that featured so-called Willem-Alexander with a new love. I printed the pictures, but it turned out to be a joke from the editors of 'Panorama'. They were also fake pictures."
Harry Bouwman, photo editor-in-chief of De Telegraaf, doesn't want to say anything about the canard. How the photo ended up in his newspaper, who the sender is, how much was paid for it, he doesn't want to answer any questions. He refers to today's De Telegraaf in which will be explained how the fake love picture ended up on the front page.
High class call girl Jesse calls the situation 'too silly for words'. "Luckily I am unrecognizable on it, but I expected an apology from De Telegraaf at the very least."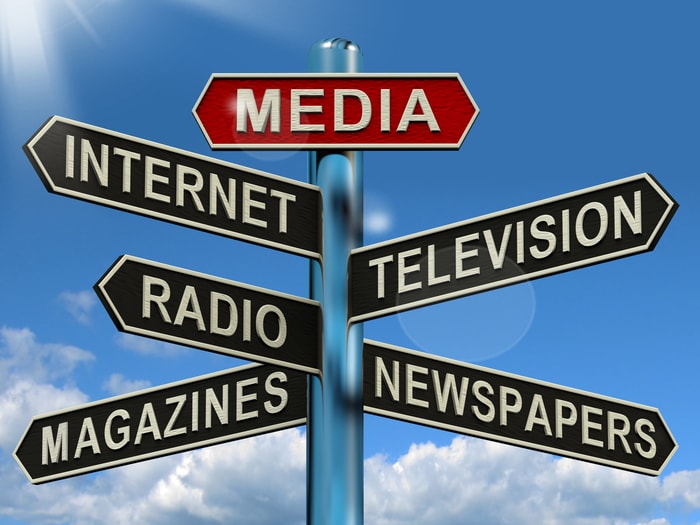 Welcome to our press page. Here you find all media publications about The Courtesan Club (former Women of the World): articles that have appeared in newspapers and magazines, but also radio and t.v. appearance's.
Recent Press