Volkskrant Magazine
Volkskrant Magazine of June 24th of 2017 features an article about a night at The Courtesan Club. Journalist Margot Pol interviews escort lady and student Noa. She talks about her work as an escort model and how she deals with a double life. She also tells about her travels abroad and the adventures she experiences as a call girl.
"I am proud that people climax thanks to me"

It pays well and you get out and about
It's not for everyone, a side job as an escort. It pays well and you get out and about. "But in the end it's just the same plain sex as in a brothel." There's a tuna salad on the table at the reception of high-class escort agency The Courtesan Club. Outside you hear the traffic of Amsterdam-West, inside it's getting dim. The company phone rings and Marian, operator, answers the call. "Hi, Mr. Adams? You're seeing Noa tonight for sixteen hours at your hotel, right? And you're paying cash? (…) Great. I wish you a fantastic time!"
It's only a small survey that the University of Amsterdam conducted at the end of last year, but the results are remarkable. Of the 363 students surveyed, almost a third would consider a side job in the sex industry. Even more remarkable is that over 6% say they actually do it. That means that 22 students who completed the survey earn extra money behind a window, as a webcam girl, or as an escort. And this is at the University of Amsterdam alone. Surprising. Because it's quite something, selling your body to pay for your studies, right? Or is it not so bad?
If you watch Diary of a Call Girl on Net 5, read the column of escort Amber in Linda. magazine, or know a series like The Client List, you would almost believe it. High-class escorts are gorgeous, confident girls who get paid to show up at fancy restaurants and hotels, eat lobster in Cannes, and converse with interesting CEOs and managers as the champagne flows. Tanned they then slide back into the lecture halls, with a few hundred euros extra in their bank account. A lot more than when working in the hospitality industry.
Or is there another side to it?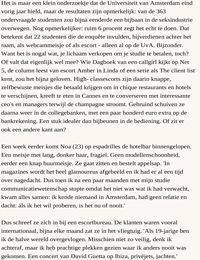 A week earlier Noa (23) walks into the hotel bar on espadrilles. A girl with long, dark hair, petite. Not a model beauty, more so a very pretty girl-next-door. She sits down and orders apple juice. "In magazines it's depicted in a very glamorous way and I had thought about it for some time. So when I quit my studies in communication science after a few months because it wasn't what I expected, everything came together. I didn't know anyone in Amsterdam, I was single and thought: if I want to try it, it's now or never."
So she registered with an escort agency. The customers were mainly international, she was on a plane almost every month. "As a 19-year-old I flew halfway around the world. Maybe not so safe, I think in hindsight. But I've seen beautiful places I would never have visited otherwise. A David Guetta concert in Ibiza, private jets, yachts."
In addition to income, she received perfumes, bags and jewelry. "But the exciting part also subsides. If you walk through the Rijksmuseum for a long time, only the most beautiful thing will still touch you. What I like the most now are the conversations. Many men want to be your mentor, I always learn something: from astrological signs to everything about a financial crash. A few weeks ago, I had a client who gave me tips about Santiago de Compostela, the pilgrimage route I want to walk. He even gave extra money for on the road. So that I would think about him."
I have no worries, except to make sure that both of us have a fantastic time
Make no mistake: high-class escort work involves physical services in 99 percent of cases, Noa says. But she wants to emphasize that it's only a small part of the evening. "No one can have sex for two hours, no matter how much they might want it. It just doesn't work. Suppose you have a two-hour booking, then you are already getting to know each other in the first 45 minutes. You share a bite to eat, something to drink. Afterwards you hug and talk. On such an evening, I have no worries, except to make sure that both of us have a fantastic time. Usually it's easy. But I have to feel good emotionally, because it includes some acting." She eats a little bit of the fried zucchini ordered.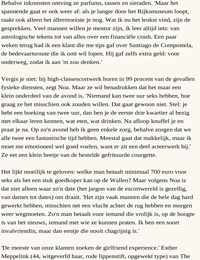 It seems hard to believe. Which man pays at least 700 euros for sex if it can be a lot cheaper on the Red Light District? But according to Noa, that's not only what such a date is all about. "They're often men who've worked hard all day, or have had a long flight and need to catch the first plane out again tomorrow. Such a man pays for someone who's cheerful, someone who's up to date with current affairs, someone they can talk to. I'm kind of a substitute girlfriend, but one that is never cranky."
"Most of our clients are looking for the girlfriend experience." Esther Meppelink (44, hair dyed white, red lipstick, cheerful) from The Courtesan Club would like to talk about her profession because there are so many misunderstandings, she says. For example that high end escort companies are shady businesses, when in fact so-called 'relax companies' are completely legal in many municipalities in the Netherlands . "I think the snack bar down the road is less strictly controlled by the municipality than we are. There are all kinds of rules, we pay taxes and we are checked by the GGD."
Meppelink never finished her Dutch studies completely and didn't write her thesis. Her side job as an operator at escort agency Women of the World was so much more fun. Shortly after she became a co-owner. And no, she has never tried the work herself.
On average, around ten women per week submit an application form. Their motivation is important, says Meppelink. They should not do it purely for the money, for example. Those who are deeply in debt might step over their boundaries. In addition, they must be good-looking, be able to easily maintain an intelligent conversation, have both feet on the ground and, moreover, be service-oriented. That sounds strange, but those who cannot efface themselves can never be a good escort, according to Meppelink. "Even if it's not George Clooney who opens the hotel door, you should be able to have sex with him."
Prostitution suits her, says Isabel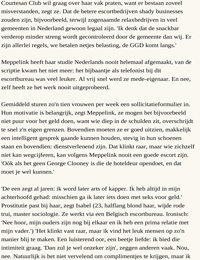 "The one says for years: I will become a doctor or hairdresser later. I've always had in mind: maybe I'll do something with sex for money later." Prostitution suits her, says Isabel (23, shoulder-length blond hair, loose-fitting red sweater, master's in sociology). She works with a Belgian escort agency. Ironic? "No, my parents are still together and I have a great relationship with my father. It may sound strange, but I like to make people happy in this way. A listening ear, a little love… I like to offer that intimacy. 'You must be insecure,' others often say. Well I'm not. Of course it's nice to get compliments, but I just love to offer this service. I'm proud that people can reach a climax thanks to me."
Her experience, however, is that it's not as glamorous as people think. "Of course I had that image in my head, but those luxurious dinners and trips rarely happen. You have to look a bit nicer and it takes a little longer, because as a high-class escort you will be booked for at least two hours. In the end though it's just the same plain sex as in a brothel."
"Of course there are clients who I normally wouldn't give my attention to should I meet them in my spare time. But someone who is fat and ugly can still have a nice smile. Thanks to this work, I've learned to see something attractive in everyone."
She sounds like she means it
"I was recently with an ICT specialist. A sweet boy, but one about which all the prejudices are true: socially incapable, a Star Wars T-shirt with stains and so white that he almost gave light. It was like having sex with a starfish. He lay motionless on the bed without making a single sound that sounded like he was enjoying himself.
In retrospect, he said it was nice, but I had to do my utmost best. Sex doesn't last three hours, even if you do it twice. I had to try so hard just to keep the conversation going and afterwards I was mentally exhausted. Sometimes the sex is good and with a handsome man of course. Usually though, it's not the kind of lovemaking that you think: more please. Short bookings are sometimes nicer, lol. But when I see someone flourishing or feeling more confident and social thanks to me, I like that. Then I'm proud. And no, I've never felt dirty. Not even when I worked in a brothel. Sometimes I would have sex with 10 different men in a day and be too tired to even take a shower at home. I just love sex."
That is indeed a condition, if you're considering a part-time job as an escort. Still though, this work is not for everyone, Isabel thinks. "It's a big step. I know girls who have tried it once and who are now depressed or suicidal. After all, you're just a whore. I don't feel bad about that myself, but if it's not for you, you will feel dirty."
Update: divorced
Meanwhile, the phones ring so often at the escort agency's office that operator Marian barely has time to smoke her cigarette. "You also notice that the economy is picking up again." Tonight's fourth girl is booked, she has to reject a fifth request by email. "No sorry, none of our girls are currently near your hotel in Leeuwarden, but see you soon!"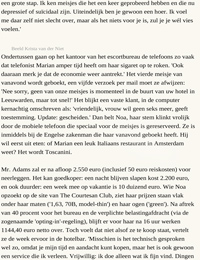 It turns out to be a regular customer. He is concisely described in the computer as: friendly, wife no longer wants sex, gives her permission. Update: divorced´. Then Noa rings, her voice sounds cheerful through the mobile phone that´s reserved for the girls. She's now with the English businessman who booked her tonight. He first wants to eat out. Noa is asking if Marian can suggest a nice Italian restaurant in Amsterdam.
Mr. Adams will pay €2.550 (including €50 travel costs) for the date. There are cheaper options: an overnight costs 2.200 euros. And more expensive is also possible: a week long holiday is €10.000. If you visit Noa's profile on the site of The Courtesan Club, you will see her prices just below her sizes ('1.63, 70B, model-thin') and her eyes ('green').
After deducting 40% for the agency and the compulsory taxes (via the so-called 'opting-in' system), €1144 net remains for her after 16 hours of work. Still, it doesn't feel like she is for sale, she told me in the hotel bar the week before. "Maybe it's technically the case, because you can buy my time and attention. But it's also just a service I provide. Voluntarily. I only do what I like. Things like bondage, peeing and SM don't make me feel good, so my profile says I'm not doing these things." And if a customer insists? "Then I can leave. But that has never happened."
From escort lady to the agency owners and employees, everyone emphasizes that escort work is not dangerous. "When I first started working here, the thought of it really stressed me out," said operator Marian. "I imagined those girls, perhaps tied up and all… But nothing bad ever happened. Well, maybe a customer who sniffed too much coke that he can't do anything anymore."
According to the agency owners, a chic escort agency is characterized by safety
A girl is never just sent somewhere. If someone books for the first time, his identity will be checked first: is he who he claims to be? Is the credit card information correct? Is he not on the blacklist that circulates between the agencies? The operator calls the specified hotel room to verify the customer is actually staying there. Men who are under the influence are rejected. Men shouting, "Send me a woman!" as well. The escort can be brought with a driver if she wants. When she doesn't call within 10 minutes to say that everything is okay, or doesn't answer her phone, the driver will go to check that she's alright.
You can also refuse in advance. Some escorts are not fond of customers from certain countries. In the end though, you enter a hotel room on your own. What if the customer is a creep? "Does he look unkempt, is his hotel room a mess or it doesn't feel good? Then make up an excuse and leave. We will take it from there," says Esther Meppelink. "People often think that it's dangerous work with men who are after everything. But our customers have something to lose: a company, a high position. After almost twenty years, I firmly believe that the vast majority of people who use our services just want to have a good time."
"Yesterday I had a 42-year-old man eager to do anal for the first time, but he was very shy. "Am I hurting you?" he kept asking. "Should I stop?" I thought he was such a sweet man. So cute. In between he wanted to cuddle."
Faya (30) has just returned from the beach
She puts down a plate of cookies in her new apartment near the sea. She paid her makeup artist education with the money she earned as an escort, got a boyfriend and quit. When her relationship ended she started again because she missed it. "In the beginning I did it for the money.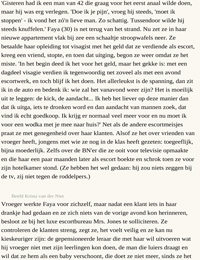 The funny thing is though, nowadays, I earn just as much money in a half a day doing makeup as a whole evening of escort work. And yet I continue to do it.
The best part is the excitement. I sit in the car and I think: who will it be tonight? It's difficult to explain: the kick, the attention… I prefer this work than going out, getting a little too drunk and then seeking the attention of men. That I find really cheap. I normally get a lot more for it and now I go home with someone for a vodka?"
Just like the other escort girls, she talks affectionately about her customers. As if she's talking about friends from the past, boys with whom she was still in class. She's indulgent, almost motherly. Even about the celebrity she once made up for television and who booked her as an escort a few months later and was shocked when she stood in front of his hotel room. They still did it. It was agreed he wouldn't say anything about it on TV, and she nothing to the tabloids.
Faya used to work for herself, but after a client put something in her drink and couldn't remember the night before, she decided to join the luxury escort agency 'Mrs. Jones'. They strictly control the customers, she says. It feels safe and she can now be more picky. No more the retired teacher who wants to do with her what he used to be unable to do with his students. Nor the man who wears diapers and wants her to treat him like a baby. She no longer takes these clients since she no longer needs the money.
But still: if someone pays you, isn't there necessarily a dominant position?
She takes another cookie. No, she says firmly. "Let those men think they have the power. For a few hours I don't mind playing along. Then I walk out the door and I think: what a dork you are, that you pay for sex." And there it might be: the other side.
"I no longer trust men," says Isabel. "Really none of them. Sometimes they come in a cycling outfit or with the dog, I've seen so many cheating. The worst was a man who had just gotten a tattoo, the foil was still on it. "What's kind of tattoo is it?" I asked. It turned out to be his daughter's name. His wife had given birth the day before and was still in the hospital. If I like someone, I'm immediately suspicious. On a second date I want to see, in a manner of speaking, which other girls he's texting with. I try to block my feelings because I'm a bit afraid of getting hurt."
Isabel is just in a new relationship, and it's not always easy. It's difficult to reach a peak. She's so used to faking during the work. After all: everything in the service of the pleasure of the paying man. Her boyfriend knows why that is. She told him that she did escort work previously. "Yes, I have had sex with a few hundred men, but I don't think I'm a bad person and I won't be a bad mother later for what I'm doing now. I'm worried about what he'll think of it later though, especially since I did it of my own free will. I think it would be accepted even sooner if it was because I was forced. What does this say about me? What weird, dirty person I am that I want this?"
Noa finds the lying really hard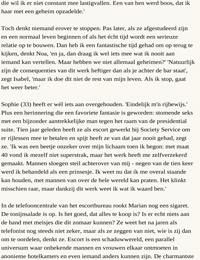 "Sometimes I want to talk about what my day was like. I can't though, because there's a taboo on it. A few friends know, I don't want to bother them constantly. One of them got angry that she had to keep my secret."
Yet no one thinks about stopping. Only later, when they've graduated and start a normal life, or when it's really time to build a serious relationship. "I'll look back on the fantastic time I had," Noa thinks. "And yes, I do carry something I can never tell anyone. But don't we all have secrets?"
"Of course the consequences of this work are more severe than if you're behind the bar," says Isabel. "But I won't do this for the rest of my life. If I stop, it will be better again."
Sophie (33) did get something out of it. "At last I have my driver's license! Plus a memory that has become a favorite fantasy: steamy sex with a particularly attractive man against the window of the presidential suite." Ten years ago she worked as an escort at Society Service to pay for driving lessons and she never regretted that year, she says. "I was a bit insecure about my body when I started. Being a size 40 I didn't think I was super fit, but the work made me confident. Men fell hard for me and nine times out of ten I was treated like a princess. I now know that I can stand anywhere, talk to men from all over the world. It may sound strange, but thanks to this work I know what I am worth."
It's a role, a secret life, beyond all civil norms and values
Marian smokes another cigarette in the office of the escort agency. The tuna salad is finished. Is it good that everything is for sale? Is there really nothing wrong with girls who can do this just like that?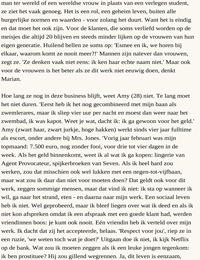 She's still unsure after years as an operator, but when they say no, who is she to judge, she thinks. Escort is a shadow world, a parallel universe where unknown men and women meet in anonymous hotel rooms and can be someone else for a while. The most charming man in the world or a worldly woman instead of a shy student. She sees it often enough. It's a role, a secret life, beyond all civil norms and values – for as long as it lasts. Because it's finite and it should be.
For the customers, who sometimes fall in love with the girls who're forever 20 and less and less resemble the women of their own generation. They sometimes call crying, "Esmee and I, we belong together! Why won't she see me again?!" Men are more naive than women, she says. "They often don't even think: I don't know her real name." But it's also better for the women if they don't do this work forever, Marian thinks.
Amy (28) doesn't know how long she'll remain in this business
It shouldn't take too long. "At first I combined it with my job as a swimming teacher, but I slept four hours a night and then had to go back to the pool, I was broken. You know what, I thought, I'm just going for the money." Amy (black hair, black dress, high heels) has been working as an escort full-time for four years, including with Mrs. Jones. "February last year was my top month: €7,500 without tip, for three to four days a week. When the money comes in, I already know what I'm going to buy: Agent Provocateur lingerie, Seven jeans.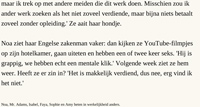 If I worked really hard, it might work with a nine-to-five job, but what would that require of me? The same goes for this job, some people say, but I don't think so. I get up whenever I want, go to the beach, eat, and then to work. There's no social life for me though. I tried, but I kept lying about what I was doing and if I couldn't meet because I had a good customer appointment, friends got angry:"You can never make it!" they would shout. I told one friend about my work. I thought she would accept it. Unfortunately I was wrong. "Respect for you," she shouted in an argument. "We know what you're doing!"
I don't go out, I watch Netflix on the couch. What should I say when I meet a nice boy? Hi, I'm a prostitute? He would run away screaming. Yes, this life is lonely, but I hang out with other girls who do this work. Maybe I would look for another job if it didn't earn so much. But almost nothing pays this well without an education." She strokes her dog.
Noa sees her English businessman more often. They watch YouTube videos in his hotel room, go out for dinner and have sex once or twice. "He's funny, we really have a mental click." She'll see him again next week. Does she feel like it? "It's easy earned, so no, I don't mind."
Noa, Mr. Adams, Isabel, Faya, Sophie and Amy are actually called differently in real life.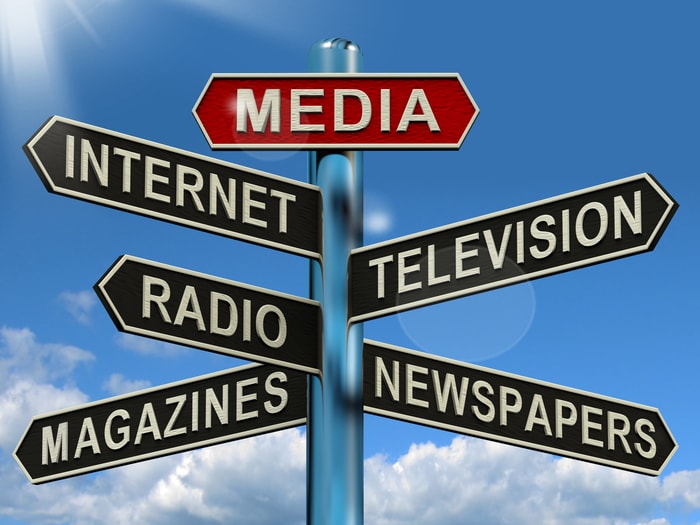 Welcome to our press page. Here you find all media publications about The Courtesan Club (former Women of the World): articles that have appeared in newspapers and magazines, but also radio and t.v. appearance's.
Recent Press