Opzij
In feminist magazine Opzij, July 2009, escort girl Maria discusses in depth how it is to work as an elite call girl. She tells how it has helped her to set her limits more clearly and discover her own pleasures. Since working at the top agency Women of the World – now called The Courtesan Club – she feels space to experiment with sex and feels the freedom she has never felt before to do things she would never have done otherwise.
Intimate contact with men without role-playing is so liberating
"If there are no expectations, I can be more myself and I am more open and can give more"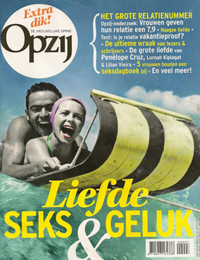 That's what I love about working as a high class escort girl. I give myself to someone who is willing to give something – money in this case – in return. That relationship offers freedom. When I meet a man in the pub, you get into the game of  'the man and the girl' so fast. I get so tired of being pushed into the girl's corner, where you have to wait until you are conquered. It's liberating to have intimate contact with men when the hunt, the conquest, the whole stereotypical role-playing game is gone.
I first noticed that when I went to New York with a gay friend, right after graduation. I was 23 at the time. In the gay scene, men deal with each other in a completely different way than I was used to. There was mutual equality, and sexual contact was therefore more free and non-committal.
Around that time I was also single for the first time since the age of 16. Before that I always had a boyfriend. I had never bothered to investigate what could bring me to an orgasm. For the first time I asked myself the question: what do I like? Before that I had always made sure that the other person felt comfortable.  Now I wanted to get to know that myself. Because of these circumstances I started an investigation into my own sexuality, my limits, outside the well-defined frameworks.
"I experimented online: can I learn to estimate people?"
Back in Amsterdam I had no relationship and no work. Everything was open. In my search I ended up on sex chat sites. At first I thought that only weird people would go there, but it wasn't that bad. I experimented online: can I learn to estimate people? Do I know when my limits are exceeded? Every contact was a learning moment. I learned to clearly indicate what I wanted, how far I wanted to go. If I didn't like it, I quickly cut it off. I also met two men from that site: one became a one-night stand, with the other I had an affair that lasted longer. We both appeared to be in the same discovery phase and wanted to learn about our sexuality. We experimented a bit with S&M and experienced what it's like to surrender and what it's like when the other person surrenders to you. It was fantastic and wonderful.
"We had a temporary deal in which I focused entirely on him"
When I was 28 I had my first experience with paid sex. That experience came from my exploration. At a fetish party I met a man who wanted to pay me to sit at my feet. I noticed that this exchange provided space. We had a temporary deal in which I focused entirely on him. If he hadn't pa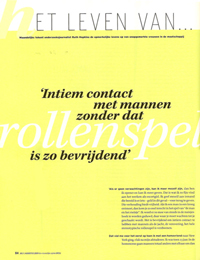 id me, I would have had to ask myself: do I allow this man? I would have otherwise had to find a man that I would have allowed and that would have created those expectations and stereotypical role patterns that I was trying to break. Because of the payment, the contact was more exclusive and therefore deeper.
Once I had experienced that, I became interested in sex work. I looked for something on the internet and ended up at high class agency Women of the World. The way of working immediately appealed to me; the company is run by women. I don't have to appear in pink latex dresses or with red-painted nails, or play a certain role. I can be myself.
"BDSM, fetish, goldenshower – I enjoy it when someone dares to let go"
My first escort date was very exciting. I visited the client at his home. We had sex right away, good sex by the way, and talked for a long time afterwards. It was very pleasant.
So far I've only had one inferior experience. A client had asked me to join him and when I walked into his house, I saw that he was an acquaintance of mine.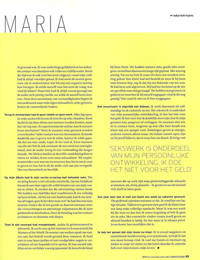 I had rejected him once. He had recognized me on the site and specifically asked for me. We sat down and chatted a bit and then I checked with myself: do I still like this? I didn't think so and I left.
The escort work is actually a side job, I am also self-employed person in the cultural sector. Sex work is part of my personal development, I don't do it for the money.
I learn a lot: how to be clear, how to set or push my limits. The men I come into contact with react to me and every time it's like looking in a mirror. Some give you energy, others just take it. The balance between being open and staying with yourself, that's what it's all about. I get a lot of men who are looking for ground-breaking sexual adventures: BDSM, fetish, goldenshower – I enjoy it when someone dares to let go.
"My life feels 'right' now"
A few times I've been on holiday with a client. They call it the girlfriend experience. I found it a tricky situation. On a regular date, I give the client my full attention for two hours. But I was with that guy for a week and then sometimes I'm cranky or I don't feel like having sex. Finding the balance between giving yourself and keeping your personal space is difficult. And the more you get into each other's private lives, the harder that is.
My life feels 'right' now. There is so much negative and misleading perception about prostitution, while I think it's a beautiful profession. I feel very comfortable physically and mentally and that's because I have control over my choices, over my life.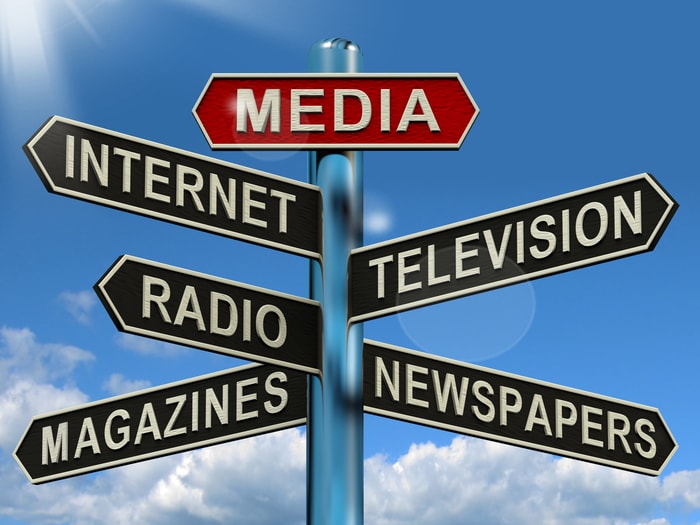 Welcome to our press page. Here you find all media publications about The Courtesan Club (former Women of the World): articles that have appeared in newspapers and magazines, but also radio and t.v. appearance's.
Recent Press