Volkskrant Magazine
In this article in Volkskrant Magazine of May 12th 2007 Esther and Julie of Women of the World, nowadays The Courtesan Club, and Lotte of Club LV have a diametrically opposed opinion to the one of politician and ex-sex worker Karina Schaapman. According to Esther and Julie it's possible for an escort girl to enjoy what she does, be independent, and be well organized in business. Karina contests that and would rather see a ban on prostitution because according to her it just doesn't work in reality.
Yes, there is oppression and exploitation in prostitution. The 'power whore' is an illusion, critics say. A number of (female) entrepreneurs try to do things differently…. Text by Saskia van der Kam.
Some prostitutes do like it
Laura (33) works in the medical sector, loves horse-riding, piano playing and yoga. The 29-year-old Lisa is a PR assistant, she's fluent in English, French and German and enjoys going to the theatre. And Saskia (20) weighs 53 kilos, is a journalism student and a good conversationalist.
Two hours with one of these ladies costs €600 and for €2000 you can spend a night with them. On the website of the high class escort agency Women of the World you can find 25 other companions that can be booked for similar amounts. All ladies are well educated and have a good job or are still studying. And that is not just advertising to potential clients, the company vows. 'You can make a lot of money, but that shouldn't be your main goal,' the website states.
Stay-at-home mom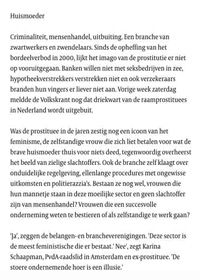 Crime, trafficking, exploitation. A branch of undeclared workers and swindlers. Since the abolition of the brothel ban in 2000, the image of prostitution does not seem to have improved. Banks do not want to do business with sex entrepreneurs, mortgage lenders do not want to invest, and insurers prefer not to burn their fingers on it either. Last Saturday, Volkskrant reported that three quarters of window prostitutes in the Netherlands are being exploited.
In the sixties the prostitute was still an icon of feminism, the independent woman who got paid for what the good housewife did at home for nothing. Nowadays the image of piteous victims dominates. The sector itself also complains about unclear regulations, lengthy procedures with uncertain outcomes and police raids. Do they still exist, women who stand their ground in this difficult sector and are not victims of human trafficking? Women who manage to run a successful business or are self-employed?
"Yes", say the interest and industry associations. '"his sector is the most feminist there is." "No", says Karina Schaapman, PvdA councilor in Amsterdam and ex-prostitute. The powerful, entrepreneurial whore is an illusion.
Warm
'Done by women, run by women.' Esther Meppelink (34) and Julie Ryan (33) of Women of the World are proud of their motto. "It is our trademark. We approach sex in a feminine way, with style and respect," says Julie. When she started the company in 1998 together with friend and businesswoman Gudrun Wilsterman, they wanted to create an agency where businessmen all over the world can book women who are not only beautiful, but also intelligent, warm and personal. "We want to offer the girlfriend experience. Women who like what they do and are not shy about it."
A year later, Esther responded to a vacancy for a telephone operator. She studied Dutch and wanted to earn some extra money. Gudrun left the business and Julie was looking for a new partner. Things clicked between Esther and Julie and so now it so happens to be that the future Neerlandica still has to write her thesis.
But all things take time in the beginning
The escort ladies mediated by Women of the World are independent entrepreneurs. They determine when and how often they work and set their own hourly rates. As a mediation fee they pay the agency a fixed amount per booking. The clients are mostly international businessmen who are looking for company and intimacy for a few hours, but sometimes also a weekend or a whole week. The responsibility for their own safety lies with the girls, but the men are always checked via their credit card details. The girls also have to report when they enter a client's home and when they leave.
Sometimes the client is reprimanded or even rejected. Esther: "When men want to 'order' a hooker or talk about 'nice tits', we say something about it. At first in a friendly manner, because some men do it out of ignorance or awkwardness, but if they're unwilling to unlearn their disrespectful ways, we don't want to be of service to them. With us you book a lady with nice breasts, you can't order a whore with nice tits."
Esther and Julie have also experienced that it isn't easy to start a business in the sex industry. They were rejected by the big banks. Many magazines don't want to place an ad or they charge twice as much. "But all things take time in the beginning," says Julie. "That also applies to other industries. You shouldn't let yourself get knocked out of the field and just be a little creative."
Tax authorities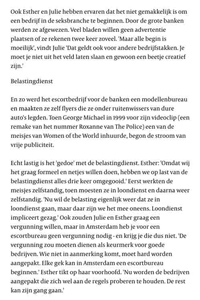 And so the escort company became a modelling agency for the banks and they made their own flyers which they put under windscreen wipers of expensive cars. When George Michael hired one of the girls from Women of the World in 1999 for his music video (a remake of the song Roxanne by The Police), the flow of free publicity began.
The 'hassle' with the tax authorities is really tricky. Esther: "Because we want to play by the legal rules, the tax authorities have ordered us to change everything three times. First the girls worked independently, then they had to go into paid employment and then again independently. Now the tax authorities want them to be employed again, but we disagree. Payroll implies hierarchy." Julie and Esther would also like a permit, but in Amsterdam you don't need a permit for an escort agency – and so you don't get one. "The permit should serve as a hallmark for good companies. Anyone who doesn't qualify should be dealt with harshly. Any crazy person can start an escort agency in Amsterdam." Esther taps on her forehead. "Now the companies that do try to abide by the rules will be treated unfairly, but the rest can do whatever they want."
Physical coercion
"Visiting prostitutes is not normal behavior," says Karina Schaapman's pamphlet published in March this year. In it, she wonders why the Netherlands maintains the illusion that the sex industry is a normal business and the prostitute a normal free entrepreneur. Schaapman is not opposed to legal prostitution in principle, but observes that it does not work in practice.
Prostitution is only legalized on paper. The legal bosses have to deal with endless inspections and taxes, but illegal prostitution continues. Legalization solves nothing this way and gives of the indication sign that going to prostitutes is normal. And we have to get rid of that. Prostitutes are regularly victims of physical or mental coercion, economic necessity or emotional dependence. Even if they do it voluntarily, there is a great lack of self-esteem underneath their decision to do this. She stands by this conviction firmly.
"In the Netherlands we believe that we should not be too moralistic about prostitution. But it is time,' the councilor believes, "to confront the punter with the consequences of his desires. The man who demands paid sex is enabling the shadow sides of the industry."
She laughs and throws her long blond hair seductively to the side of her neck
It's 11:00 Friday night. It's still quiet in Club LV. Two men are at the back of the venue and are busy talking to each other. Scantily dressed Mirjam is a bit cold and orders one more vodka with cola light. "That's the drink with the least amount of calories. The other day a customer said I was starting to get a bit of a tummy." She laughs and throws her long blond hair seductively to the side of her neck. Cheerful girls greet each other when they enter the club. After their third and last free consumption the two men leave. Unfinished business.
"That happens all the time," says Lotte Graanboom." They just come to have a look. It costs 70 euros entrance fee, but apparently they're willing to pay that."
Lotte (28) has been the owner of Club LV for two years.  Her career started, seven years ago, as a telephone operator for an escort agency. When her boss wanted to sell the company, she quickly said: 'I want to buy it'. At the bank, she applied for extra credit on her existing account. "I was lucky, because I got a lot more than I was allowed on my student account." She borrowed the rest from her parents and the previous owner.
A club of her own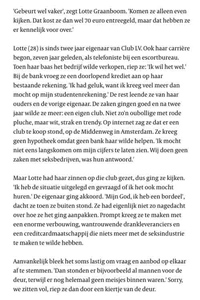 Business was going well and after two years she wanted more: a club of her own. Not a corny one with red plush, but white, neat and trendy. On the internet she saw that there was a club for sale, on the Middenweg in Amsterdam. She didn't get a mortgage because no bank wanted to help her. "I wasn't even allowed to come by to show my figures. We don't do business with a sex company, was their answer."
But Lotte had her sights set on that club, so she went to check it out. "I explained the situation and asked if I could rent it. The owner agreed. "My God, I've got a brothel,"" she thought as she stood outside. She hadn't really thought that much about how she was going to do it. Promptly she had to deal with a huge renovation, distrustful liquor suppliers and a credit card company that wanted nothing to do with her company or any other sex industry.
At first it turned out to be difficult to match supply and demand. "There were already men at the door for example, while there were no girls inside at all. I'm sorry, we're full, she would shout through a crack in the door."
Uncertainty about the payroll tax regularly keeps her awake at night
Club LV has eight rooms, all with king-size beds and bathtubs. These can be rented for a fixed amount per hour and the girls set their own hourly rate. They don't pay anything for mediation and they can drink for free the whole evening. For the escort service the same applies: Lotte charges a fixed hourly rate and the girls decide on their own price.
Uncertainty about the payroll tax regularly keeps her awake at night.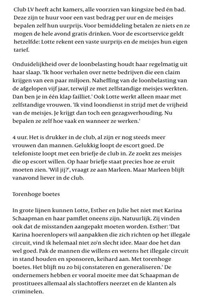 "I hear stories about good legal companies that get a claim for a few million. There are audits on the past five years taking place, while working with independent girls. Then you're bankrupt in one go." Lotte also only works with independent women.
"I find being on the payroll contrary to the girls' freedom. You get a relationship of hierarchy anyway. Now they decide for themselves how often and when they work."
Four o'clock. It's busier at the club, although there are still more women than men. Luckily the escort business is running well. The telephone operator walks into the club with a note. She is looking for six girls who want an escort. Her note says exactly what they should look like. "Do you want to?", she asks Marleen. But Marleen prefers to stay at the club tonight.
High fines
Generally speaking, Lotte, Esther and Julie cannot disagree with Karina Schaapman and her pamphlet. Of course they think the abuses should be dealt with. Esther: "I don't think it's such a bad idea that Karina wants to tackle punters who focus on the illegal circuit. But if you're going to that, do it right. Tackle the men who knowingly maintain and sponsor the illegal circuit. With sky-high fines. But now it's the case that there is merely observation and generalization. The business owners especially have a problem with Schaapman portraying the prostitutes as victims and the clients as criminals.
"I hear that more often, and strangely enough mainly from interest groups and prostitutes," says Schaapman. "But it's not my intention to exclude prostitutes, to stigmatize them or to let them become disenfranchised. For women that make a well-informed decision to do this work, labor rights must be guaranteed. But I do oppose the image of the strong, powerful, free, independent, emancipated prostitute, as mainly portrayed by interest groups".
Let that serve as an example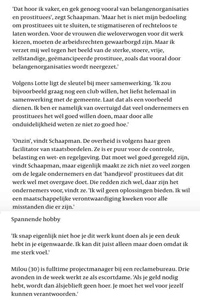 According to Lotte, the solution to the problem lies in more cooperation. "For example, I would like to have another club, preferably in cooperation with the municipality. Let that serve as an example. I am convinced that many entrepreneurs and prostitutes do want to play by the rules, but because of all the uncertainty, they don't really know how."
"Nonsense", says Schaapman. According to Schaapman, the government should not be a facilitator of state brothels. It's there purely for control, taxation, laws and regulations. Schaapman thinks that this should be well-organized, but in fact she isn't too worried about the legal entrepreneurs and the  'handful' of prostitutes that do this work more than willingly. They will manage. That's why they're entrepreneurs, she thinks. "I don't want to offer any solutions. I want to create a public outcry for all the abuses that exist."
Exciting hobby
"I don't really understand how you can do this job when you have low self-esteem. I can only do this because I already feel strong."
Milou (30) is a full-time project manager at an advertising agency. Three nights a week she works as an escort girl. "If you need money, please don't become a prostitute. You have to be able to justify it for yourself."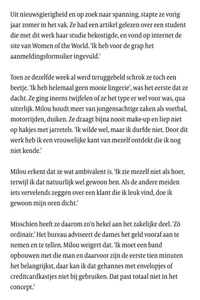 Out of curiosity and desire for excitement, she joined the business last summer. She had read an article about a student who financed her studies with this work, and found the site of Women of the World on the internet. "As a joke, I filled out the application form."
When she was called back the same week, she was a bit startled. "I don't have any beautiful lingerie," was the first thing that came to her mind. Suddenly she began to doubt whether she was the type for this kind of work, in terms of looks. Milou is more into boyish things like football, motorcycling, diving. She hardly ever wears make-up and never walked on heels or wore suspenders. "I wanted to, but I didn't dare to. Through this work I have discovered a feminine side of myself that I didn't yet know."
Milou acknowledges that she's still somewhat ambivalent. "I don't see myself as a prostitute, but in fact I am. If the other girls say something annoying about a client I like, I just don't listen."
I'd rather invest it for later
Maybe that's why she hates the business part of a booking so much. "It's so vulgar." The agency advises the ladies to take the money up front and count it. Milou refuses to do that. "I have to build up a connection with a man and the first ten minutes are the most important, I don't need that hassle with envelopes or credit card boxes. That doesn't align at all with my concept of a perfect booking."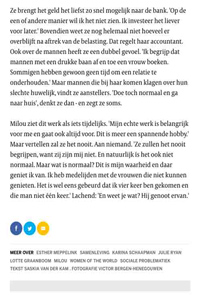 She prefers to take the money to the bank as soon as possible. "Somehow I don't want to look at it. I'd rather invest it for later." Besides, she doesn't know at all how much is left after taxes have been deducted. Her accountant will take care of that. She also has a contradicting feelings about the men. "I understand that men with a busy job sometimes book a woman. Some just don't have time to maintain a relationship. But men who come to her to complain about their bad marriage, she finds pathetic. "Act normal and go home," she thinks – and sometimes she even says something about it.
Milou sees this work as something temporary. "My real work is important to me and always comes first. This is more of an exciting hobby." But she'll never be honest about her hobby. Not to anyone. "They'll never understand, because they're not me. And of course it's not normal. But what is normal anyway? This is my truth, and I enjoy it. I feel sorry for the women who don't experience pleasure from this work. It's happened to me that I've climaxed four times and that man hasn't climaxed once. She laughs and says: "And you know what? He enjoyed it."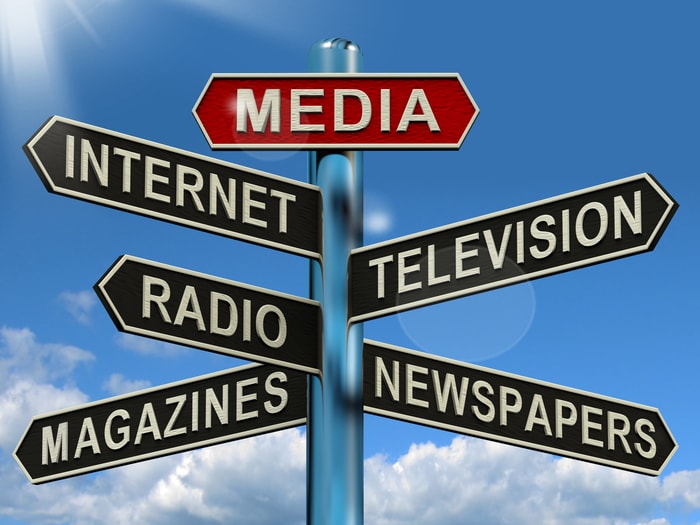 Welcome to our press page. Here you find all media publications about The Courtesan Club (former Women of the World): articles that have appeared in newspapers and magazines, but also radio and t.v. appearance's.
Recent Press